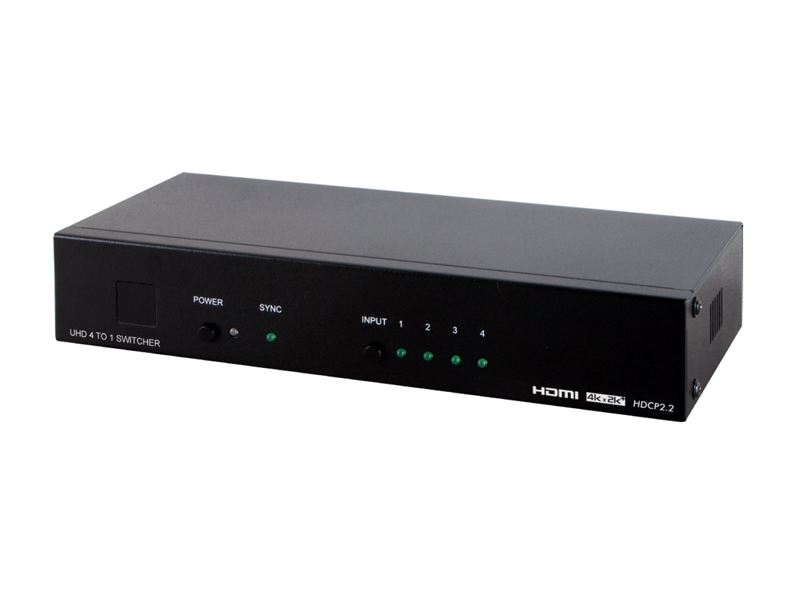 4×1 HDMI Switcher (4K@60fps)
This 4×1 HDMI switcher is the most advanced HDMI solution for true Ultra High-Definition signal routing. This unit allows for the switching
of any of four 18Gbps HDMI input signals to a single 18Gbps HDMI display device. Resolutions up to 4096×2160@60Hz (4:4:4), 16-bit
Deep Color, HDR (High Dynamic Range), HD audio as well as other features defined by the HDMI 2.0 specification are supported. Multiple control interfaces are available including RS-232, Ethernet (WebGUI & Telnet), IR remote and front-panel buttons making operation easy and intuitive.
Key features
• HDMI 2.0 with 18Gbps 4K UHD support, single-link DVI 1.0 compliant
• HDCP 2.2 and 1.4 compliant
• 4 HDMI inputs and 1 HDMI output
• Supports HDTV resolutions up to 4K UHD (3840×2160@50/60Hz & 4096×2160@50/60Hz)
• Supports data rates up to 18Gbps and Deep Color (16-bit) up to 1080p
• Supports pass-through of LPCM 7.1, Bitstream and HD Bitstream audio formats
• Remotely controllable via Ethernet (WebGUI & Telnet), RS-232 and IR remote